If your Samsung washer is beeping, and the display is flashing Samsung Washer Nd Error Code, then you need to take a look at your drain hose. Samsung machines will show this error code if there isn't any water flow because of a clogged debris filter or backed-up drain hose.
If you're not sure what it means, don't worry! This article will break down what Samsung washer nD code means and how you can fix it in just minutes.
What Does The Samsung Washer Nd Error Code Mean?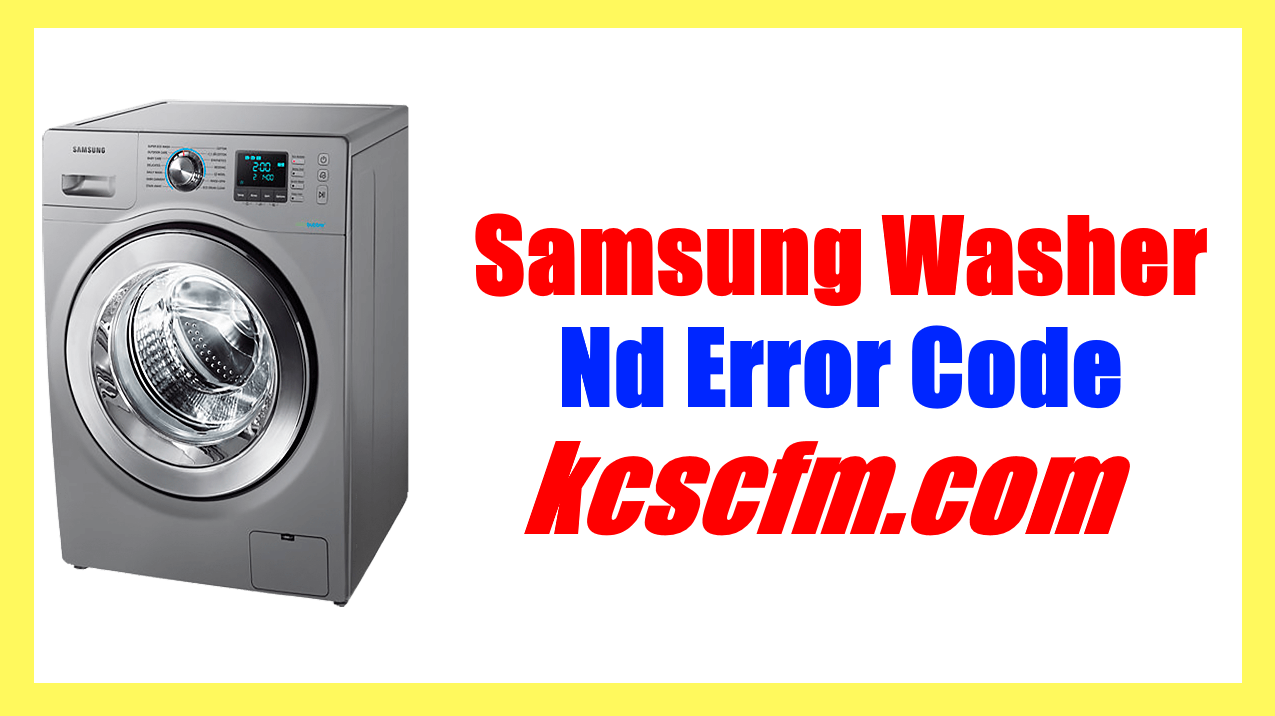 If you're getting the Nd error code on your Samsung washing machine, don't worry — it doesn't mean your washer is broken. The ND error is most commonly called "water does not drain from washer," and this error occurs when the washer cannot drain or at times when it cannot spin properly.
If your washer is beeping and displaying an Nd error code, it indicates that it is unable to drain. In some cases, this could be related to a backed-up drain hose or a clogged debris filter.
The error code Nd shows up in your Samsung washer when the water level is too low during a preliminary drain. When this happens, the machine will turn off and display the error code — which means you've got to fix it before you put in another load of laundry.
These steps will help you fix it so you can get back to doing what matters most: living your life.
How To Fix Samsung Washer Nd Error Code
When your Samsung Washing Machine won't drain or spin and the Nd error code is shown, then there are a few things you can do to solve the issue.
Wrong Wash Cycle Selected
Samsung washers have a variety of settings which can be confusing. If your washer doesn't drain, make sure that you have loaded it correctly with light clothes and that the cycle has ended. 
Make sure that you are using the correct cycles for the type of clothing; delicates or hand wash cycles may only use a low spin speed to treat certain fabrics more gently. 
Since Samsung offers a number of options for different types of fabrics, it's important to understand what each option does and how to use it correctly. When you set your washer to 'Quick Wash,' it uses a quick spin speed, sometimes causing water to be trapped in the fabric that has not been removed.
For best results, you need to choose the right cycle for each wash load. If you don't, some washers could be left wet, and others could use too much energy or water.
Clogged or Kinked Drain hose
When the drain cycle starts on your Samsung washing machine, water exits through the drain hose. If the drain hose is kinked or clogged, water can't drain and will back up into the machine. This means that instead of being sent to the drain, it will remain in the machine — resulting in a Samsung washer Nd error code.
First, straighten any visible kinks in your washer drain hose to eliminate the blockage. Then, clear any clogs or debris from the drain hose and the opening where it connects to your washer. Remember that the placement of your hose is crucial — make sure it's positioned at least 40 inches above the floor.
If your washing machine won't drain, move the hose aside and insert a small snake through the standpipe until you reach the clog. Then clear it with your hand, and put it back into place. Drain the water, and then turn on the washer to spin out any excess water.
Poor Load Distribution
An unevenly distributed load is a common cause of washer vibration. Vibration affects both the spin and drain/dump cycles, preventing water from draining properly and garments from spinning freely. An unevenly loaded washer may also cause premature wear and unnecessary repairs.
With an unbalanced load, the washer may vibrate or move about because of the uneven distribution of the clothes. Be sure to add more clothes if your load is not balanced. 
For best results, it's important to level your washer and leave some space between each article of clothing or other laundry items.
Check Drain Pump Filter
Washers come with a drain pump filter that catches small bits of dirt and lint to keep them from clogging the drain pump. If the pump is blocked, water (and your clothes) won't drain properly. To keep the lint at bay, make sure you clean out the filter often.
Turn off the water supply of the Samsung washer. Unscrew the filter cover with a screwdriver, then slide the old filter out. Wash away the accumulated debris, and soak the old filter in a bucket of clean water for 5 to 10 minutes before cleaning it thoroughly. Clean your new Samsung drain pump filter, and let it air-dry completely. Place it back on the washer bottom, then replace the cover.
Clogged Drain
There's a good chance that your washer's drain is clogged if you're getting a Samsung washer Nd error code. First, check the pockets of all the clothing before you wash it. If there are coins, keys, or other small metal objects in the pockets, they can easily clog the drain. Second, if you see water remains in the tub or on the floor after a cycle, it may have been a sign of a clogged drain.
While the best way to prevent drain problems is regular maintenance, there are certain areas that you can check yourself. After a load has finished washing, or if it has stalled out in the middle of a cycle, inspect the washer's interior to ensure that any coins or other small objects are not trapped in the pump or other interior components. 
The most common source of Samsung Washer Nd Error Code with this machine is stray buttons from shirts and jackets getting caught up in the wash.
Broken Lid Switch
If the Samsung washer fails to drain, a switch under the lid may be broken. By activating the switch, you can determine if it's working properly. Simply open the lid and press the switch with your finger — if you don't hear a clicking sound, it may need to be replaced.
Hi there! I'm Sam Hendricks, and I'm a repair technician and expert. I created this website to help people like you save money and time by fixing your own appliances.
Over the years, I've seen people spend a lot of money on unnecessary repairs or replacements. That's why I decided to share my expertise and create easy-to-follow guides for fixing appliances on your own.