If you're having trouble with your Samsung TV and support articles are not helping you solve the problem, then there's only one thing left to do: Factory reset the TV. Resetting a Samsung TV takes just a few minutes, and can resolve many problems regarding smart features, apps, screen mirroring, connection to the internet — even the remote.
When something goes wrong with your Smart TV, you can start over and return your device to factory default settings — you can restore its factory settings for a fresh start. This erases all of the customized information on your TV — no recordings, input names, or other settings will be available after a factory reset. When you decide to sell or give away your Smart TV, it's a good idea to delete all personal data.
How to Factory Reset Samsung TV Easily
Factory resetting can be quite a hassle, but it can make your life a lot easier. If you haven't already done so, it wouldn't hurt to factory reset your smart TV every once in a while. Resetting your TV's settings to the default values fixes bugs and glitches that may have occurred with the software or user interface and also restores any new features back to their original settings.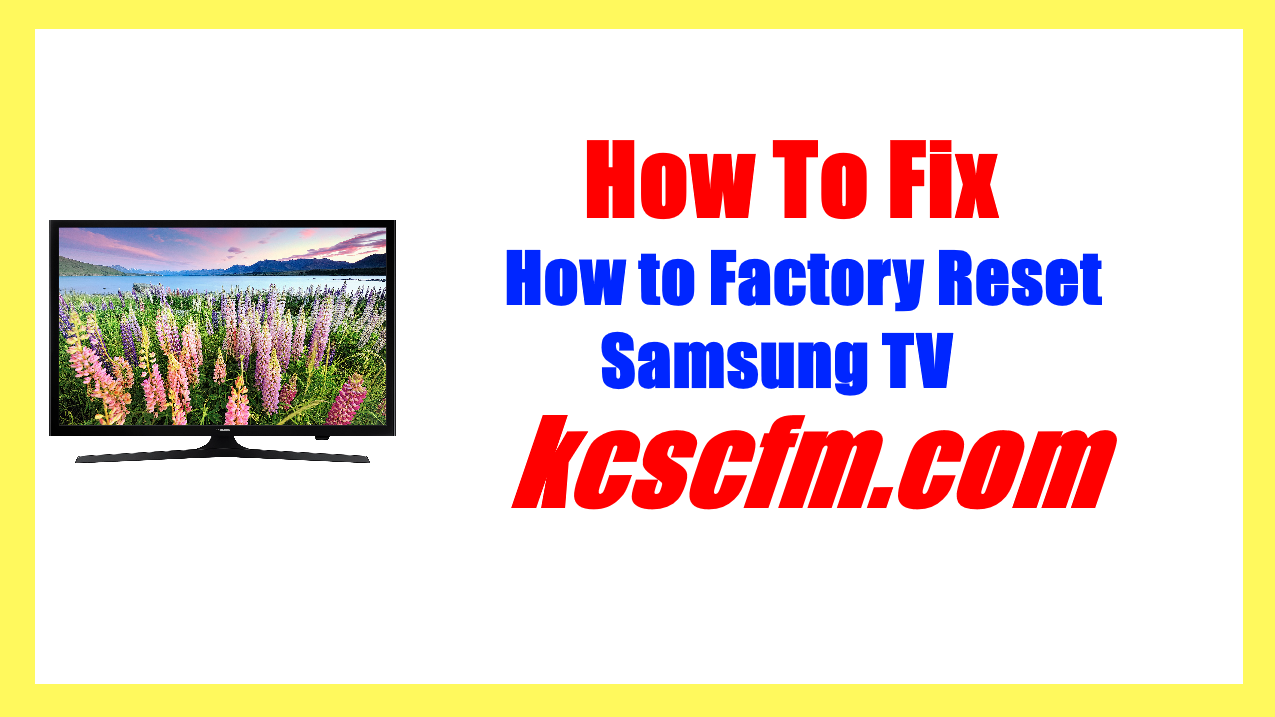 If you're having trouble with your smart TV and need to reset it, you can use the basic button combination to reset it in the majority of cases. If you've forgotten how to access the input settings on your Samsung Smart TV, you can visit our support page for a detailed guide that can help you learn how to access the settings screen, where you will be able to perform a factory reset.
Factory resetting your Samsung TV will remove all user data, including saved WIFI passwords, linked apps, and accounts. Your Samsung TV will then operate in the same way it did when you first purchased it from the store — a clean slate, with factory settings and nothing else.
Factory reset deletes all settings on your TV, including the ones synced with your Samsung account. Make sure you back up the user data saved to the Samsung Cloud. On the other hand, you can store the backup on a USB drive. Copy the recording on the USB.
Factory resetting your TV could be a complicated and time-consuming process. To make it easy for you, we have compiled a list of the most common reasons why you might need to factory reset your TV. This will help you in case you ever need to do so.
Restore Default Settings: If your television is set to the wrong brightness, contrast, or other setting, you can fix the problem by resetting all of its settings.
Wrong Network Settings: If your television is set to the wrong brightness, contrast, or other setting, you can fix the problem by resetting all of its settings.
Default Settings: The default settings for the tv and its accessories can be accessed with a push of a single button; the process is quick and easy, and you don't need to spend time streaming your favourite movies or shows. When restoring factory default settings, all of your personal data is retained and can easily be restored when needed.
Black Screen Error: When your TV is working fine and suddenly it gets stuck with a black screen, the first thing to do is to reset your TV.
Reduce Lag: If your TV is laggy and not responsive to features then factory reset it. It will give you a better experience.
Your TV is one of the biggest investments you make for your family, so it's important to know how to solve common problems. But before you spend a ton of money on a technician or expensive replacement parts, attempt resetting the TV to see if that solves the problem. While each TV is different, most TV remote controls have an input button to cycle through different inputs, including the power source, as well as a factory reset button.
Method 1: Factory Reset (For Latest Samsung TV models)
If you want to reset your smart TV, try method two below. This will work for most smart TVs on the market today, including most of Samsung's latest models. Method two involves accessing a hidden menu system on your television; do not attempt this unless you know what you're doing — you could brick your TV!
 Turn on your TV.
Open up the menu on the remote control.
Navigate to Settings, then Support, then Self Diagnosis, and lastly Reset.
Enter your security pin in the field. The default password is 0.0.0.0
Choose Yes to confirm.
Follow the screen instructions to complete the process.
Here's a tip: we recommend that you do not turn off the TV during the factory reset process. If the TV suddenly shuts off and on during setup, it is displaying the on-screen instructions for resetting your TV.
Once you've reset Tv, the screen will turn on automatically. You then need to finish Tv setup.
Method 2: Factory Reset (For Older Samsung TV models)
If you have an older smart TV, you need to reset it every once in a while. It's important to note that you'll have to make sure the remote that came with it is still working. For instance, when you're doing this on your TV, you might have to hold down a button for a couple of seconds while it's on.
Turn on your television using the remote control.
On the remote control, press the Exit button for about 12 seconds until you are prompted to reset your television's factory settings.
Release your finger when you are prompted with the option to reset your television.
Follow the on-screen instructions to complete the manufacturer's setup process.
Method 3: Use Service Menu
In order to fix these problems on your Samsung TV, you should reset it to the factory settings. This method is applicable for any model and is applicable for various lags that occur in TV. For example, if the refresh rates of your TV are not working correctly, you can go to its service menu and reset it. A number of people prefer this method as it helps with a number of errors.
Put the TV in Standover Mode
Turn the TV Off by using the remote
Press and hold the mute button, 1, 8, 2, for few seconds. The service menu takes few seconds to appear.
Select the factory reset option from the menu.
Type in your password and press enter. 3. Follow the instructions on the screen.
Turn on the TV back on and press the power button located on the TV's right side.
Once the TV finishes rebooting, you can set up your preferences. First, connect to your WiFi network and log in with your Samsung account. Then, go through the interface and locate the apps that you installed previously.